During two weeks (June 28 – July 9, 2022 ), there was active brainstorming about the future of precision agriculture at the partners of the CUPAGIS project in Algeria. Professor Tarmo Soomere, Coordinator of the CUPAGIS project (President of the Estonian Academy of Sciences) visited all the CUPAGIS project partner universities in Algeria: Djillali Liabes University, Université d'Oran Ahmed Ben Bella, Ibn-Khaldoun University Tiaret, Université de Mostaganem, Ecole Nationale Superieure d'Agronomie.
PHOTO GALLERY
All the project partners provided a short overview of the recent progress of CUPAGIS activities in the partner universities. They all have made considerable progress in accreditation and implementation of new curricula:
New curricula have been created at all five universities and fully accredited and launched in four universities;
The syllabi (short description of the courses), curricula and the teaching materials have been prepared and peer-reviewed;
New VCR equipment classes fully installed in freshly renovated classrooms; PAGIS IT centres launched and PASENSO competence centres unveiled (partially in temporary facilities) at all universities;
Almost 100 students have already completed the first study year; more than 100 are expected to enrol from autumn 2022;
The number of already enrolled students to the new curricula varies from 14 to 28 in different universities, with a roughly equal share of male and female students over all universities;
A variety of different stakeholders have been engaged.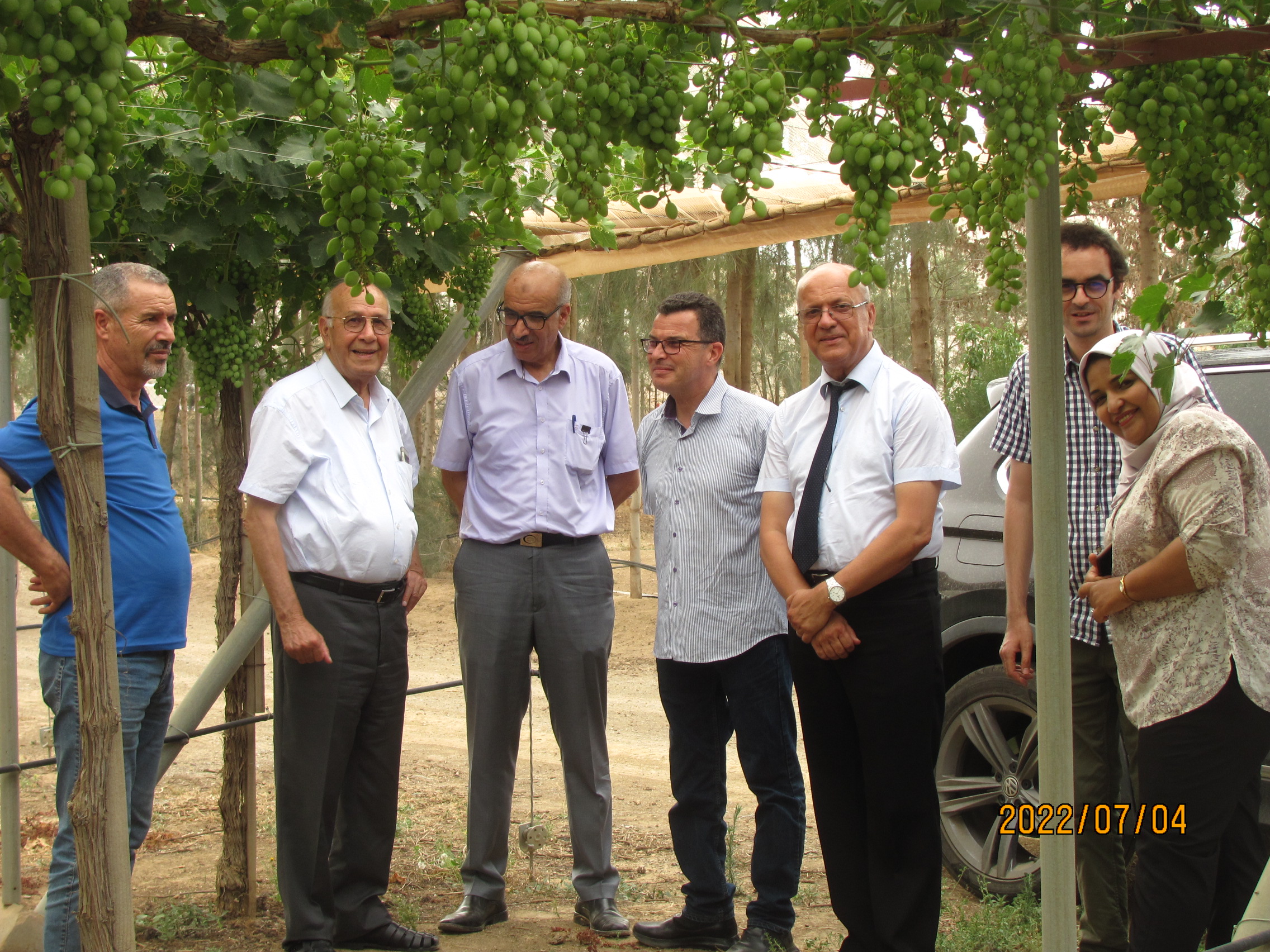 Visit of the CUPAGIS team of the Djillali Liabes University of Sidi Bel-Abbes to the production area of the Groupe Hasnaoui SODEA Spa. (https://sodea-hasnaoui.com/) on 04 July 2022. The founder and leader of this company Mr Brahim Hasnaoui (the second from the left) personally explained the principles of creation and running this farmstead.
Local coordination meetings took place in all partner universities: on 28 June in Ecole Nationale Supérieure d'Agronomie (ENSA, Algiers), on 03 July in Abdelhamid Ibn Badis Université de Mostaganem, on 04 July in Djillali Liabes University of Sidi Bel Abbès, on 05 July in Université d'Oran1, and on 07 July in Ibn Khaldoun Tiaret University.
These meetings involved extensive discussion about the future of teaching of precision agriculture in Algeria, the mission and modus operandi of the PASENSO competence centres, and perspectives of engagement of various stakeholders at both local and regional level. These aspects were considered as an important component of the third mission of universities – the economic and social mission of the university and its contribution to communities and territories.
See also the CUPAGIS Facebook page